04 Dec

Common Asbesto Exposure Scenarios
Common Exposure Scenarios
Asbestos exposure in your home can occur in different ways: DIY renovation, drilling through drywall or replacing an old pipe. The following scenarios describe how homeowners can expose themselves to asbestos at home.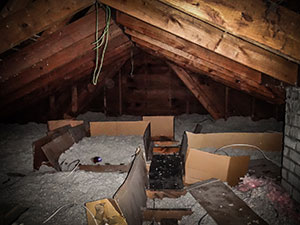 Attic Renovation
While remodeling the attic of his 1960s home, John found piles of brown pebble-like insulation. He decided to replace the existing insulation with new fiberglass insulation to save money in the winter months. He scooped the loose insulation into some garbage bags and installed the new material.
John had no idea that his attic was insulated with asbestos-containing vermiculite. By disturbing the material, he spread asbestos fibers in the air. John should have left the insulation alone and had it tested for asbestos before disturbing it.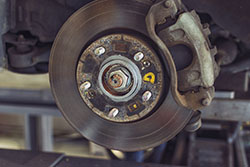 Brake Dust in Home Garage
Ralph loves working on his 1965 Corvette Stingray. When his brakes started to squeal, Ralph wanted to replace them in his own garage. After removing the rear tires, he saw the brake drums were covered in dust. He banged the sides with a hammer and blew off the dust with an air compressor.
Because some brake components contain asbestos, spraying them with compressed air can release toxic fibers into the air. Ralph should have taken his car to the shop for service or wiped down the brake drums gently with a wet cloth.
Drilling into Asbestos in Drywall
Erica recently won a painting at a silent auction and couldn't wait to bring it home and hang it in her living room. She measured carefully and used a drill to install drywall anchors to keep the painting in place. The painting wasn't level, so she had to drill a few more holes before it hung perfectly.
She had no idea her home was built with asbestos-containing drywall. When she drilled through the wall to hang her painting, asbestos fibers from the drywall escaped into her living room. Erica should have known about the asbestos in her walls and left it alone.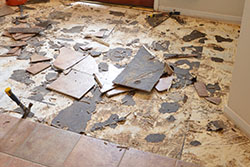 Removing Vinyl Floor Tiles
Herman just purchased a 1950s fixer-upper in his home town, and his first project was upgrading the master bathroom. He decided to start by removing the vinyl floor tile. He removed the existing tiles with a scraper and installed the new tile.
Asbestos was a common ingredient in vinyl floor tiles in the 1950s. Using a scraper to remove the old flooring can release dangerous asbestos fibers. Herman should have installed the new tile over it.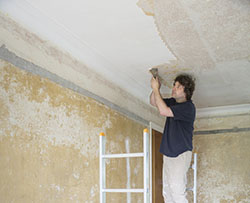 Popcorn Ceiling Removal
Janine was tired of the popcorn texture on the ceilings in her home, so she decided to scrape it off and repaint with a smooth finish. After putting on eye protection and a dust mask, she grabbed her ladder and got to work. After lots of scraping, a little sanding and some careful painting, she was finally done.
Many textured ceiling finishes, including popcorn ceilings, have concealed asbestos. Scraping off the popcorn finish released microscopic asbestos fibers that easily passed through Janine's dust mask. She should have hired a professional trained in safely removing asbestos hazards.
Although it is the safest option, hiring asbestos abatement professionals can be expensive. However, before removing the entire popcorn surface, homeowners can scrape off a sample and perform home testing with a store-bought kit. Removing even a small piece for testing still requires protection, such as eye protection and an N95 respirator.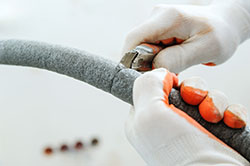 Cutting Insulation on Pipes
When fixing up the basement of his late-1800s Victorian home, Brent noticed the insulation around some of the hot water pipes was starting to deteriorate. Not wanting to lose any heat efficiency, he cut the old insulation with a utility knife and replaced it with new fiberglass insulation.
Brent should have known that many older plumbing systems are wrapped in asbestos insulation. The insulation may have already posed an exposure risk before he started the project, but cutting the damaged material released even more fibers into the air. Brent should have hired an asbestos professional to seal the asbestos insulation.
If you need to schedule a home inspection or have questions please contact us at 941-779-7170 or click here to email us.